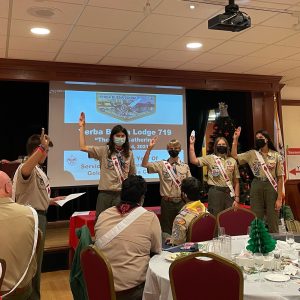 On December 4th, 2021, Yerba Buena Lodge held our first annual lodge banquet at the Alameda Elk's Lodge. 117 people attended the banquet, joining us for fellowship, food, and recognition.
The Banquet started at 6:00 PM, with Chase VanDerveer and Aaron Carr-Elkaim acting as Master of Ceremonies for the event. We started with a speech from lodge chief Aditya Sriram as well as the Council Scout Executive Mike Hale. Then, member of the lodge enjoyed a meal catered by the Alameda's Best Catering. 
At 7:30 PM, we began the official program by recognizing the members of our lodge who earned various awards over the past year. These awards include the Elangomat Award, the Activity Award, and the LEC Member Award. Our more prestigious awards include the Village of the Year Award, the Arrowmen of the Year Award, and the Founder's Award.
The Village of the Year Award is given to the village which participates and serves the most in lodge activities. This year, the Village of the Year Award goes to Wekemnayon Village.
The Arrowman of the Year Award is the most prestigious award the lodge awards. With the recipients determined by the Lodge Key 3, this award is given annually to 2-5 deserving members, and is meant to recognize outstanding service. This year's Arrowman of the Year Award recipients are Abhiram Mokkapati and Chase VanDerveer.
Introduced at the 1981 National Order of the Arrow Conference, the Founder's Award recognizes Arrowmen who have given outstanding service to their lodge. The award is reserved
 for an Arrowman who demonstrates that he or she personifies the spirit of selfless service, as advocated by founder E. Urner Goodman and cofounder Carroll A. Edson. Lodges may petition the national Order of the Arrow committee to present between two and four awards annually, depending on the number of members in the lodge. If the lodge presents more than one award, at least one must be awarded to a youth under the age of 21. This year's Founder's Awards recipients are Aditya Sriram and Wendy LaBerge.
Following the awards recognitions, the 2022 Yerba Buena Lodge Officers were sworn in. These new officers were elected the day before by their peers. Congratulations to the 2022 Yerba Buena Lodge Officers:
Lodge Chief – Chase VanDerveer
Vice Chief of Unit Relations – Olen Dempsey
Vice Chief of Inductions – Henry Johnson
Vice Chief of Activation – Jessica Stevens
Secretary – Nina Carbuccia
Treasurer – Sean Edens
Our program ended with the recognition of our new Vigil members, as well as the tap-out of our 2021 class of Vigil nominees. These are the first members to be nominated for the Vigil honor within Yerba Buena Lodge. The members recognized for this honor were Akira Tamaoki, Edward Sievers, Victor Chen, Vincent Tran, William Otani, Dean LaBerge, Michael Otani, Richard Calvert, and Stuart Mahler Sr.
Yerba Buena Lodge leadership thanks everyone who attended the event, and every member and non-member that contributed to a wonderful year. We thank everyone for their efforts to give our new lodge a fantastic start. We look forward to seeing you at our future events